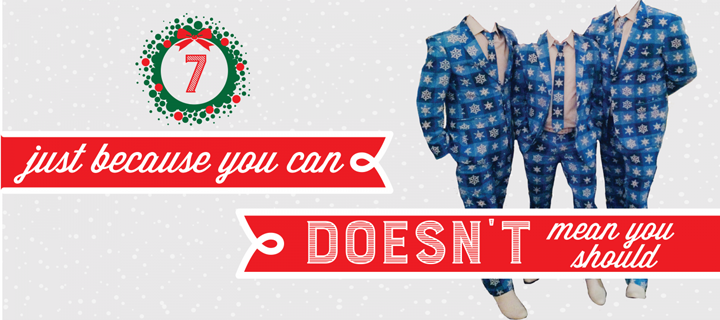 "People are so worried about what they eat between Christmas and the New Year, but they really should be worried about what they eat between the New Year and Christmas."  ~Author Unknown
Yes!  That guy has it right.
"Christmas is the only time of the year in which one can sit in front of a dead tree and eat candy out of socks."
– Comedian Rick Sutter
I'll be here all week!  That's what I'm talking about.  This can't be a surprise, you will never be around this much sugar and butter products in your life.
Okay, you get it. Christmas is not a license for overindulgence. Whether it's food, alcohol, spending money on gifts…just because you can doesn't mean you should.
This time of year, too many of us celebrate the substance—not the season.
We need to be mindful that food and alcohol can be easy substitutes and distractions for emotions, or for our thoughts about occasions.
Before you step into a situation where the proverbial eggnog will flow, I'd encourage you to have a goal in mind when it comes to the food you want to eat or drinks that you want to have. And be prepared to stop when you've achieved your goals.
I would encourage you to be mindful of the environment that you're in. We sometimes get swept away by our surroundings or the emotions of the situation—and overindulge.  Just because your friend is on their 3rd piece of pumpkin pie does not mean you should be.  I have 2 boys in college and a handful of nephews the same ages, if I'm not careful, I will be physically ill.  I can't tell you how many times I have to remind myself that I don't have that much testosterone any more, I can't eat like that and function well.
When we don't have a goal in mind, sometimes we find ourselves looking back at what was to have been a joyous time and having a lot of feelings of guilt and shame and remorse.
Give yourself a plan to navigate the food and alcohol festivities of the holiday season – not because you should, but because you can. You got this.
#i360TwelveDays
–Dr. Kevin Gilliland, for the team at Innovation 360
https://i360dallas.com/wp-content/uploads/2016/05/day-7.png
320
720
administrator
https://i360dallas.com/wp-content/uploads/2016/05/Innovation-360-main-logo-final-300x138-2-300x138.png
administrator
2016-05-04 21:37:33
2016-05-05 13:52:36
Day 7 | Just because you can, doesn't mean you should