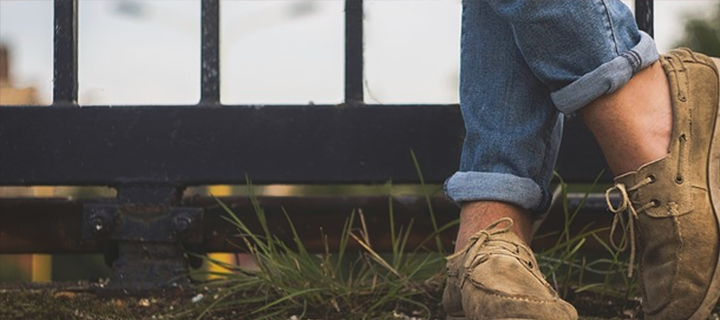 When a pair of pants didn't fit the way the rest of that company's pairs fit, I recalled a recent interview in which the CEO said he personally checks his email.
And so I looked up his company's email address format and sent him a note: "I live 300 miles from the nearest J. Crew, and I need the right pants — will you please assist me?"
Company head Mickey Drexler responded in 30 minutes, and I had the right pants within 30 hours.
Why don't we ask for what we need?
To simplify that answer, a note on tribes: a group of us was taught never to ask; another sector of us is scared to ask; and a third pack might be both.
In my experience, the never-askers have a different but very useful skill: to seek. And that skill helps one assert: by reframing assertiveness as a variant of self-sufficiency (I'm doing the asking, not you), I accomplish something while fulfilling my needs.  I thereby challenge what I've been taught, and usually I feel better about the result.
The fearful bunch has a different, equally beneficial skill as well: often they know the right tone, cadence, and wording they would use if they were to ask for their needs.  Those elements also help us assert our needs as tone, cadence, and wording suggest that we are strategic, compassionate, and courageous.
So how do we challenge our tendency to say nothing?
Practice.
The other day two men from the gas company stopped by my house — one appeared to be teaching the other. I stepped outside, made small talk, and ultimately requested the supervisor's card.  Why?  I had been having difficulties with the gas company, and so an ally would be helpful at some point.  A cheerful fellow, he was more than happy to provide his card.
Sure enough, when a gas matter arose weeks later, I called on Joe to help me out.  (I also emailed the chief operations officer, but that's another story.)  Asserting for his card paid off: Joe fixed the situation that the call center struggled to schedule.
Let's pause to acknowledge some challenges often associated with assertiveness: There is, of course, a fine line between assertiveness and a demonstration of entitlement, just as there is a line between assertiveness and aggressiveness.  These lines ought to be explored with some guidance from therapists and trusted friends.  And they are topics for another blog.
In the meantime, if you've recognized that you are in need of assertiveness practice, start simply.  Remember: seemingly insignificant circumstances can be the best opportunities to try asserting, and it'll pay off.
That great sweater? The website says it's sold out, but it's not.
Just ask Mickey.
– by Jack Britton
https://i360dallas.com/wp-content/uploads/2016/05/ask-for-what-we-need.png
320
720
administrator
https://i360dallas.com/wp-content/uploads/2016/05/Innovation-360-main-logo-final-300x138-2-300x138.png
administrator
2016-05-04 21:24:14
2016-05-05 13:56:47
Why don't we ask for what we need?